Any brand gets to the point when talking about its mission, vision and identity is not enough.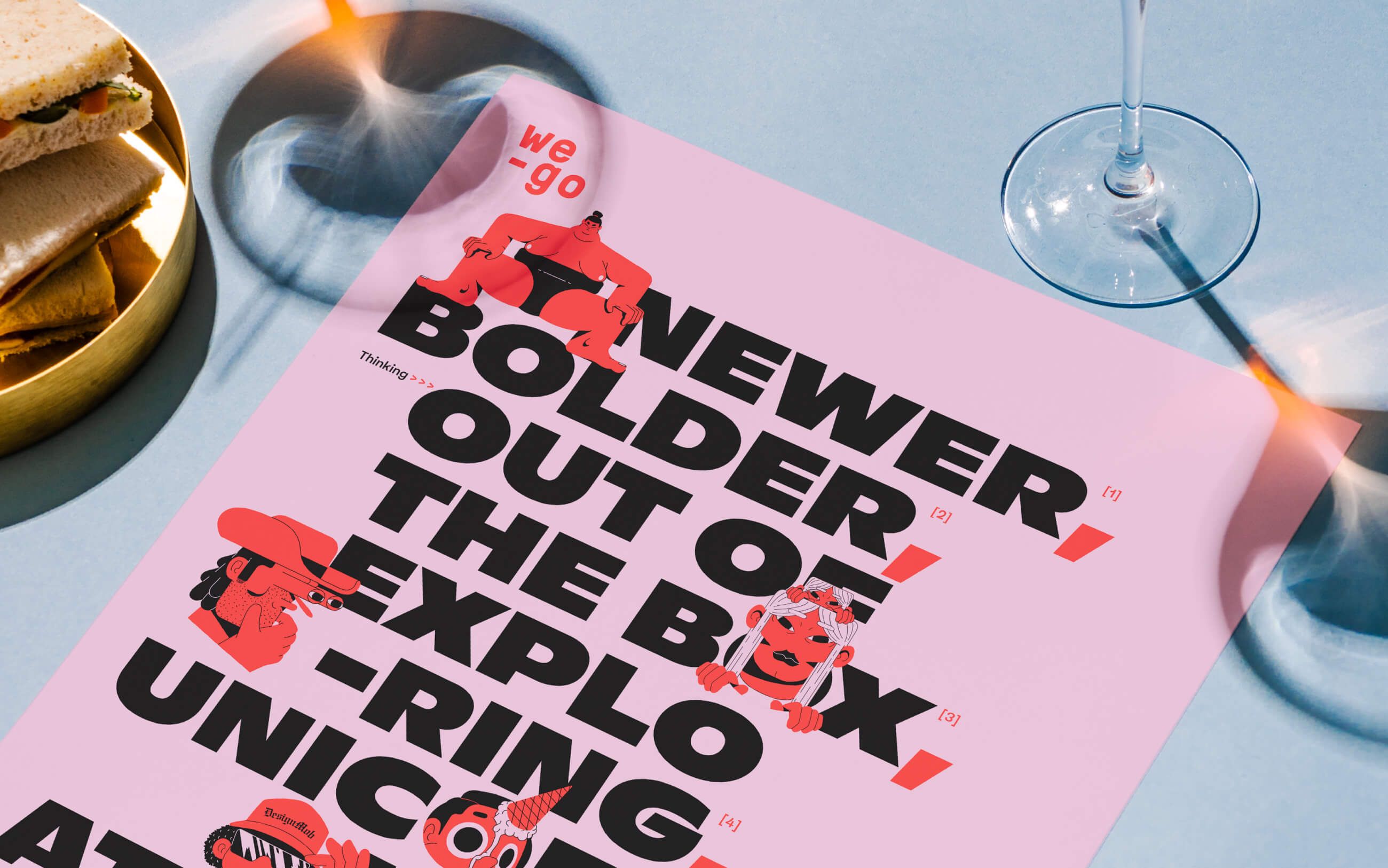 Said brand starts to feel the need for the world to know who it is, what it does and how it does it. That point is where it comes in: the manifesto. But what is it, how is it done? And above all: why should you have one?
Those three little words: values, objectives, ambitions
A brand manifesto is a real statement of intent. Brands, people, even philosophical and artistic movements used it to express who they are in an authentic, creative and clear way. It is an invaluable tool to channel brand personality in a unique way. The goal here is to leave a mark and create a connection with people, giving the audience a reason to trust your brand. Also, it is a unique opportunity to get creative.
But let's get into it step by step
Step 1: Look inside
Like all good and profound things in life, the manifesto should start with a lot of introspection. The first question to ask yourself is who your brand is, followed closely by who it wants to be. 
This is where you have to get down to basics: you have to define the brand's values, list them, write them down on paper and become aware of them. These points will be the foundation of the manifesto, that hard core of certainties to come back to every time you get lost in the process (because it will happen, and that's fine). Bonus tip: write down who and what the brand is not as well. It is the oldest and most useful trick in the world.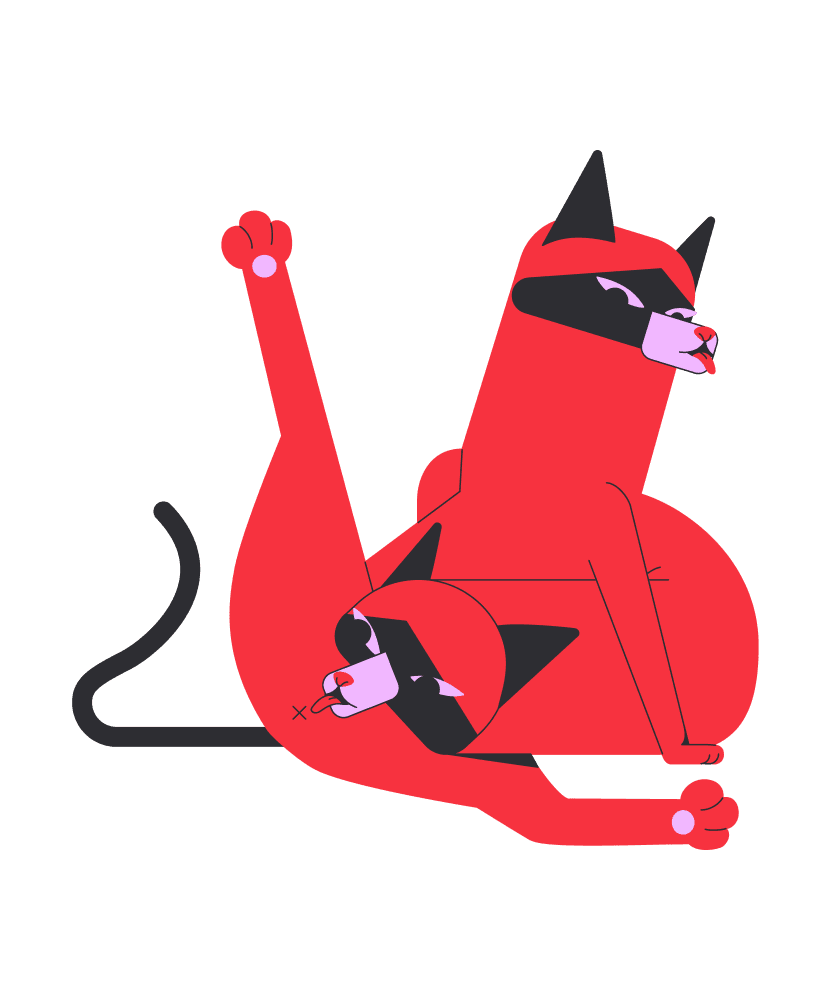 Step 2: Look outside
What impact does the brand want to have on the world around it? How does it want to change the reality in which it fits in? How does it want to achieve the results it set? We could go on like this for a while, but here's the gist of it: the brand has to stand out because it does what it does.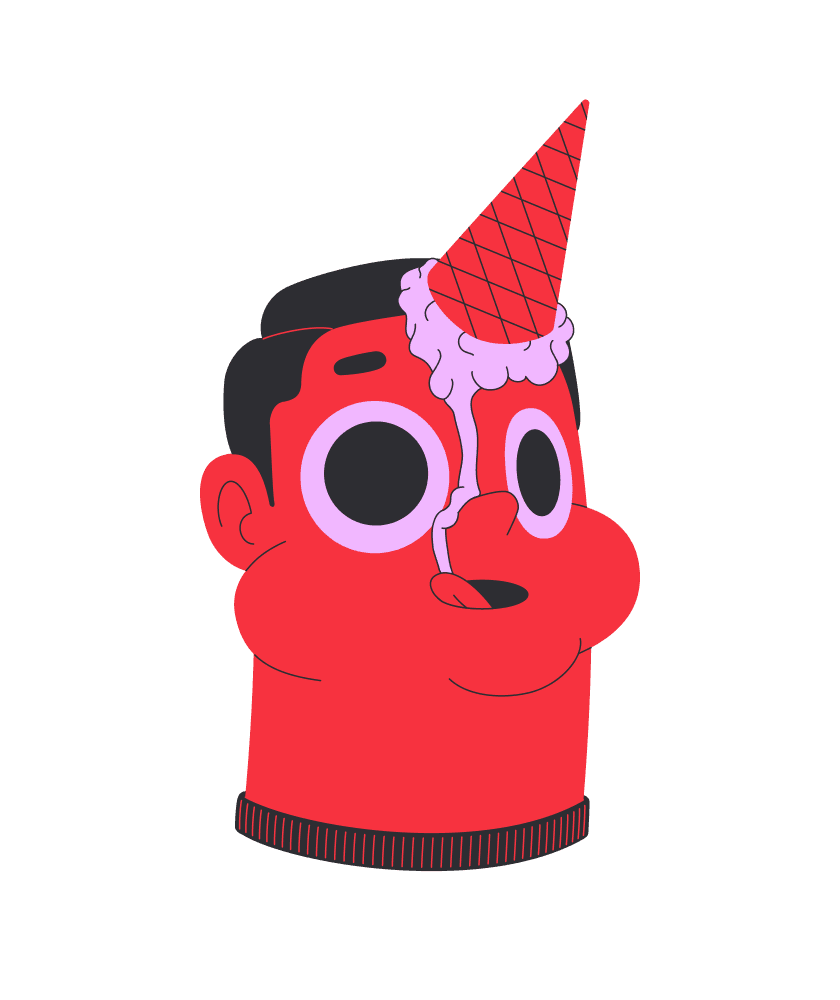 Step 3: In your own words and drawings
Once you have gathered your ideas, it is time to shape them. A crucial moment one should handle with the utmost care and imagination. The visual part of the manifesto is fundamental: it must represent the brand identity in an original way while keeping it consistent and recognisable. This is where the brand's tone of voice is translated into fonts, images, illustrations and colours.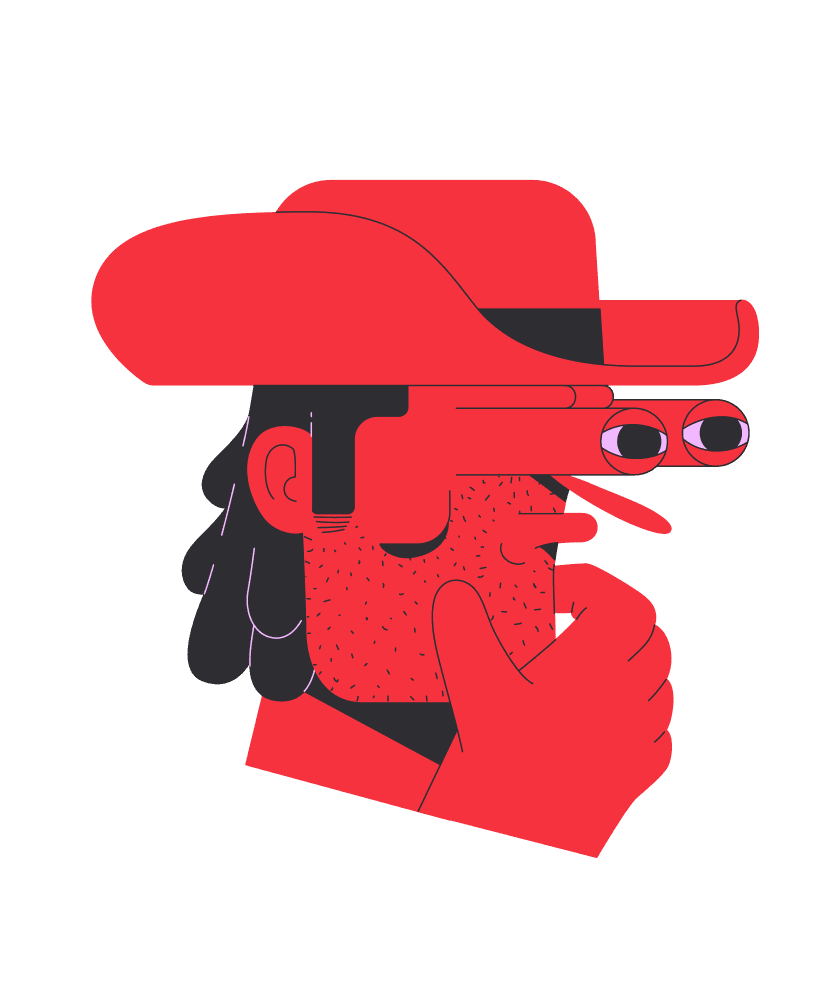 ANY FORMAT IS WELCOME: PRINTED PAPER, VIDEOS, CAPS OR T-SHIRTS.
Some fashion brands write their own manifestos on product labels and sometimes the material that makes them up is an integral part of them. This is the case with La Comet's eco-labels which, once peeled off and cut into pieces, can be planted like seeds to give birth to chamomile flowers.
Just how you want it: the 4 characteristics of the perfect manifesto
A good manifesto is exciting, brave, clear and shared. More specifically:
1. Exciting
The goosebumps effect: if, while you are composing your manifesto or that of a brand, the tingle of good ideas runs under your skin, that's the right way to go. What you really want is to speak to people's core: to find a connection, a common point that makes the audience feel part of a mission and inspires them to act, to take an action (be it leaving a contact on a website, buying a product or getting up from the sofa and going for a run).
Who did it right: For tomorrow, The Nike Running Manifesto, Pentatonic
2. Brave (and authentic)
The cliché is that your manifesto should be anything but a cliché. To do this you need to step outside the box, start a revolution. It takes courage to be oneself, flaws included. They are what make your story compelling and interesting. It's right through your flaws that you will get to recognise your audience's human side.
Who did it right: Diesel - The official be stupid philosophy, TBWA - Manifesto di scompiglio
3. Clear and direct
We cannot assume that everyone will understand us. A manifesto, because it is so public and has such a broad target audience, cannot afford to be misunderstood or to leave the reader puzzled: clarity and precision are the priorities.
Who did it right: Bruce Mau Design: Incomplete Manifesto for Growth, Holstee
4. Shared
How many will board the boat you have so painstakingly built? The effectiveness of a manifesto depends on how many voices it manages to cohesively and actively gather under its wing. The message it conveys will only be true and real if it appears as a realistic reflection of the people it represents - and those it wants to reach.
It is a tangle that can prove tricky to untie: sometimes we get carried away by an idea that looks amazing, the most inspired, the most sensational of a lifetime. However, it is not a given that such idea will be shared (and understood) by those around us. Nor that it will effectively reflect the brand's values and objectives.
How to avoid this kind of mistake? By designing the manifesto with us.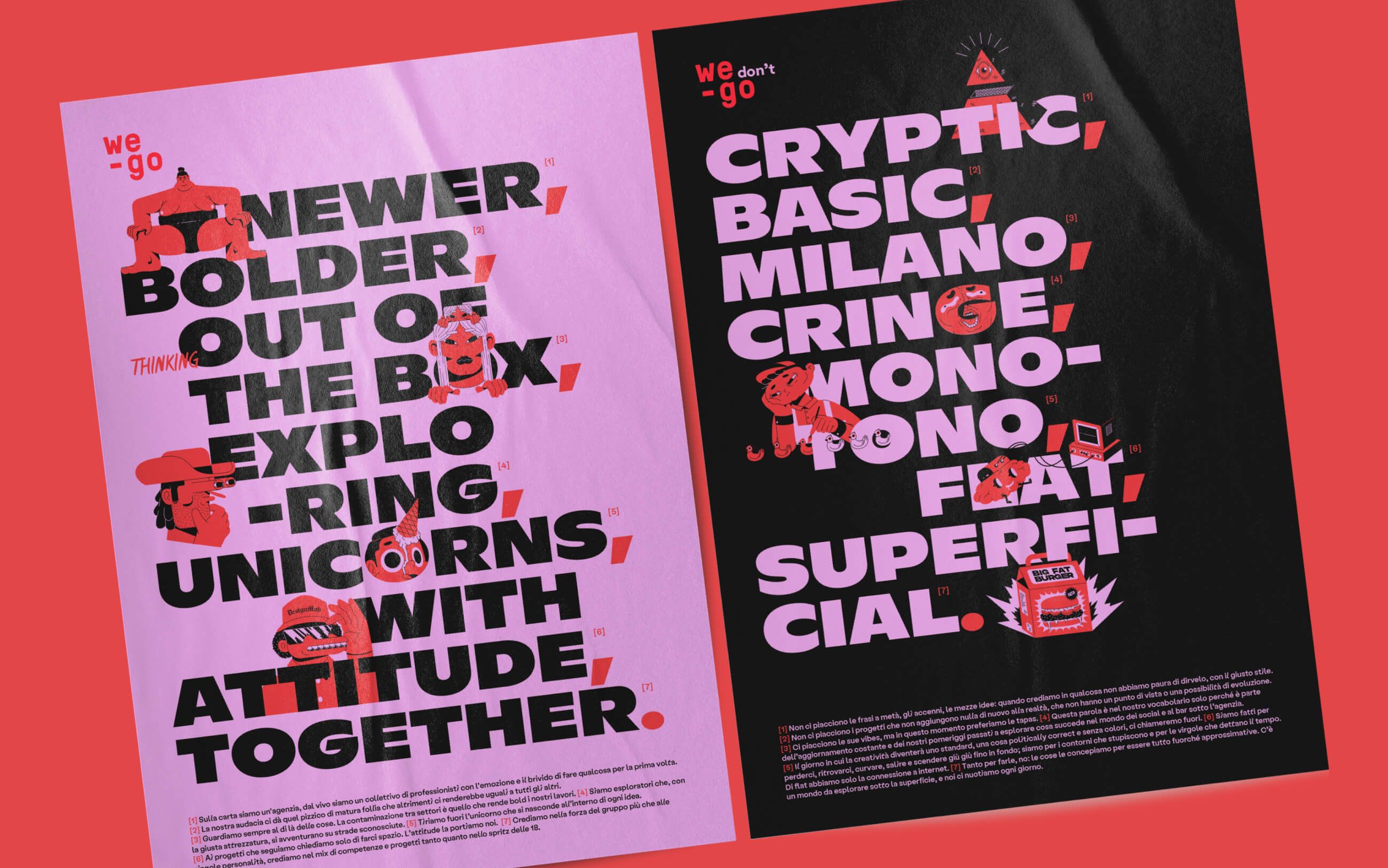 Here's the part where we throw in a light touch of casual self-reference
Wegodians loved the we-go manifesto. The reason is simple: everyone's thoughts, feelings, values and words are in it.
It was the missing piece to our tone of voice, something everyone had in themselves but that had never been defined in all its nuances: the bold attitude. That is why when we saw the final result for the first time, the reaction was: no wayyy, that's what we've been looking for all this time!
But let's get to the method we used.
But let's get to the method we used: born in the context of the agency's rebranding, the we-go manifesto is the result of a co-design that creatively and spontaneously involved each of us, starting with a question - or else, two: what is we-go? What it is not?, two little sheets of paper and complete freedom of expression.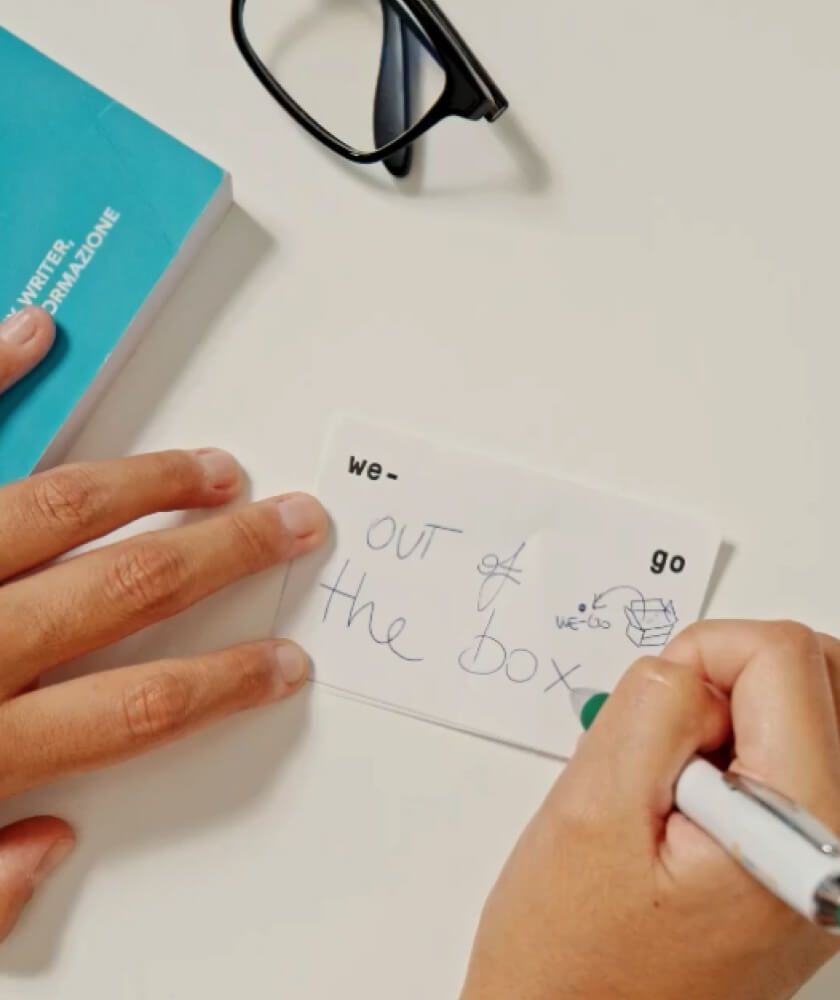 We collected the views of each Wegodian, figure out what they all had in common, where they overlapped and where they conflicted.
We swept away frivolities and got to the heart of the matter, ending up with something that is so much ours we almost did not know how we had not thought about it earlier. 

Have a peek at our manifesto and choose a side.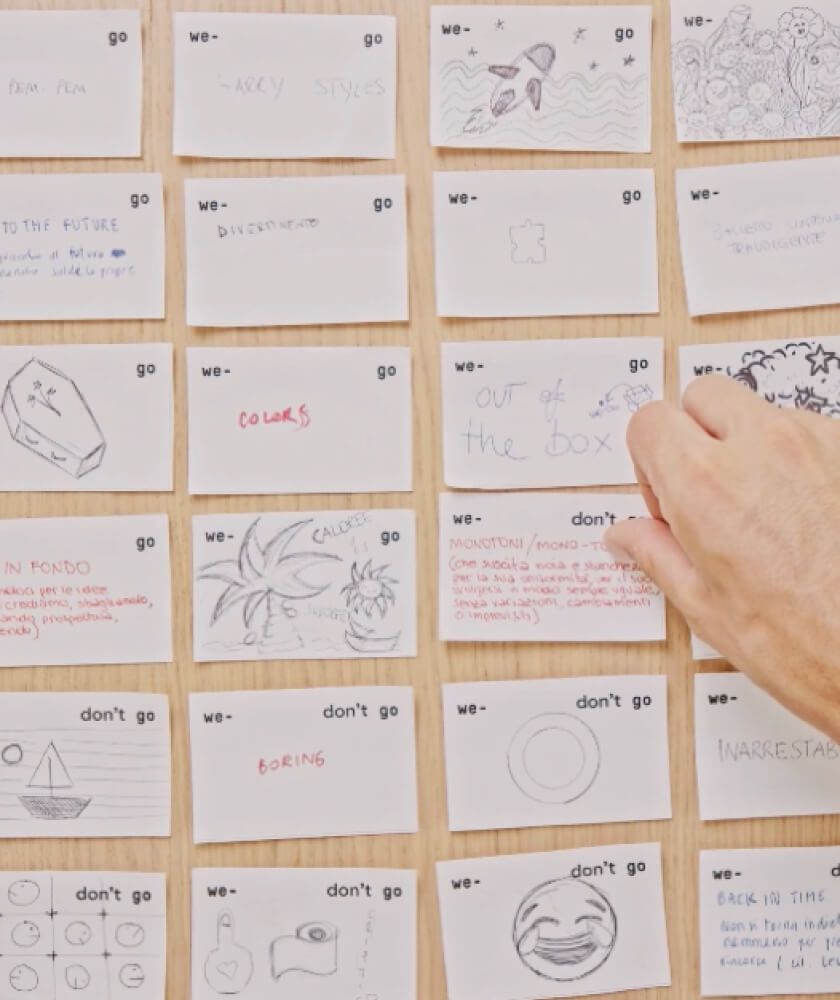 Once you set your mind on the method, you just have to follow your instincts. Writing a manifesto is first and foremost a mindful exercise on yourself, on your brand or the brand you're working on. What you are trying to say is probably already somewhere in your head: you just have to find a way to get it out and make it beautiful.