Learn about the benefits that the different Spotify Ads formats provide you with to promote your business.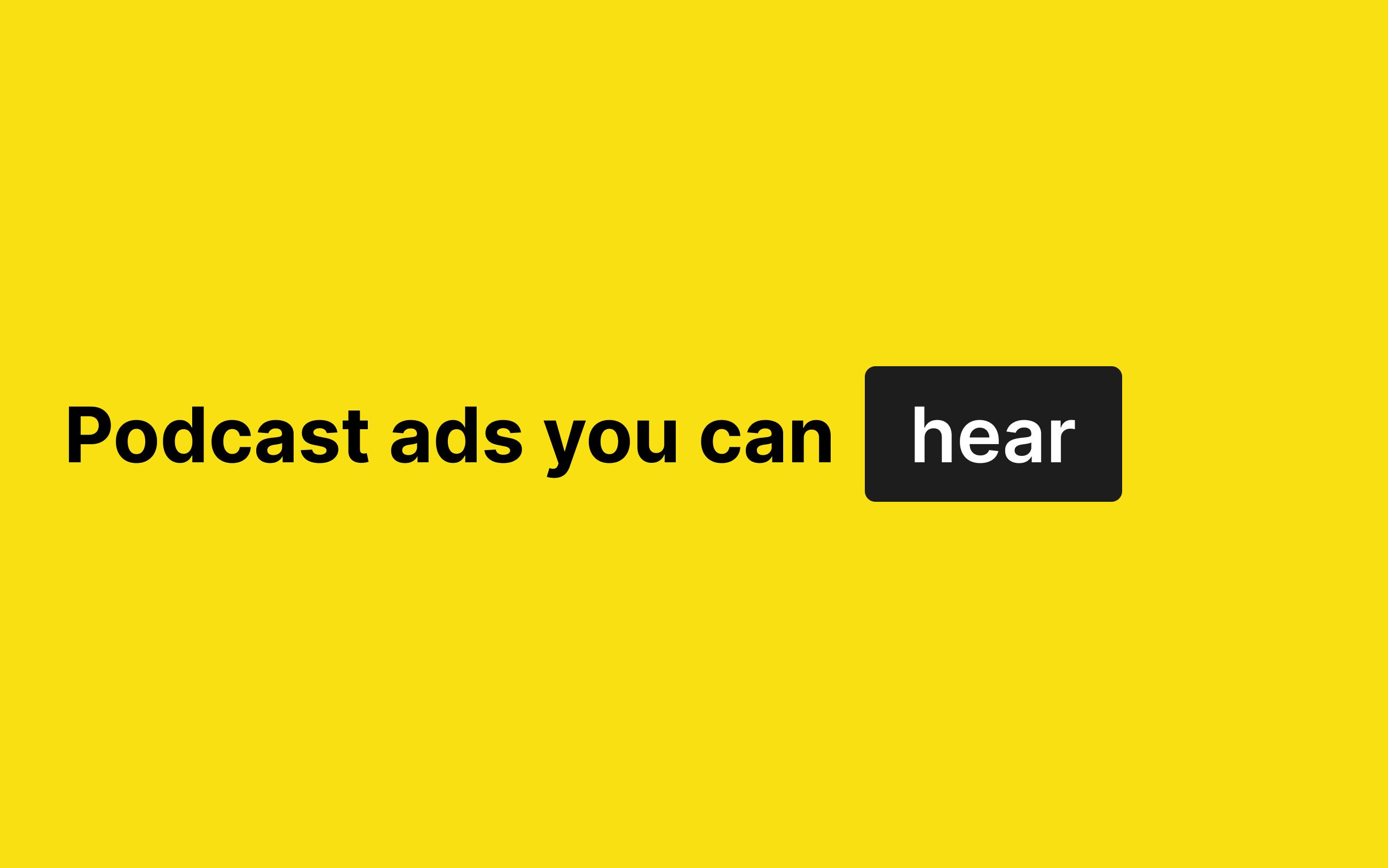 Google ADS? Meta ADS? TikTok ADS? They are all valid promotional strategies, but have you ever thought about leveraging Spotify ads?
In recent years, it has become increasingly crucial to connect with consumers at various moments of their day to capture their attention and cater to their interests. And what better time to do so than when they are listening to their favorite music or podcast?
Digital audio provides this opportunity and allows you to reach listeners during their "screenless moments," such as while driving, working out, cooking, or relaxing. Here are some facts about Spotify.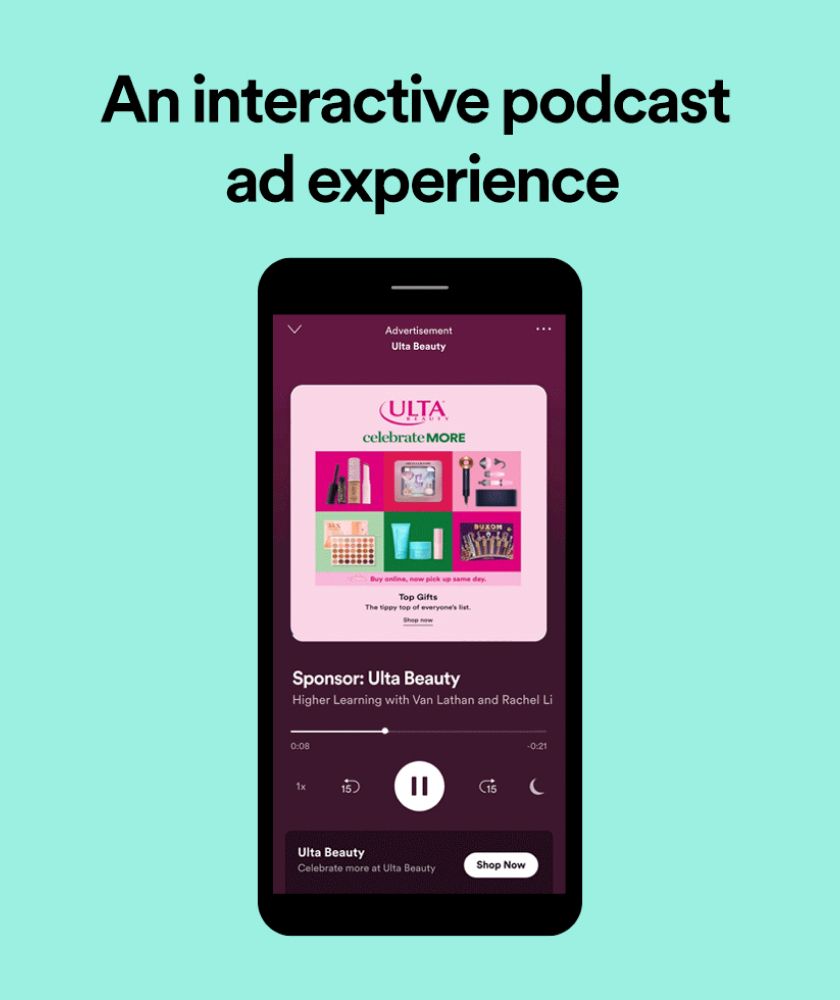 Some data about Spotify
Spotify is the world's largest music streaming platform in terms of subscribers. Users simply need to sign up to access one of the largest collections of music in history, along with podcasts and other audio content.
Over the years, Spotify has experienced tremendous growth in active users, going from 68 million in 2015 to over half a billion in 2023. Statistics also show that, on average, users spend more than 25 hours per month listening to music, and almost 44% of users open the Spotify app every day.
Another interesting fact is the target audience. Over 55% of active users are between the ages of 18 and 34, and the female audience represents 56%.
Considering these statistics, we can arguably say that Spotify deserves more than a passing thought within the media mix.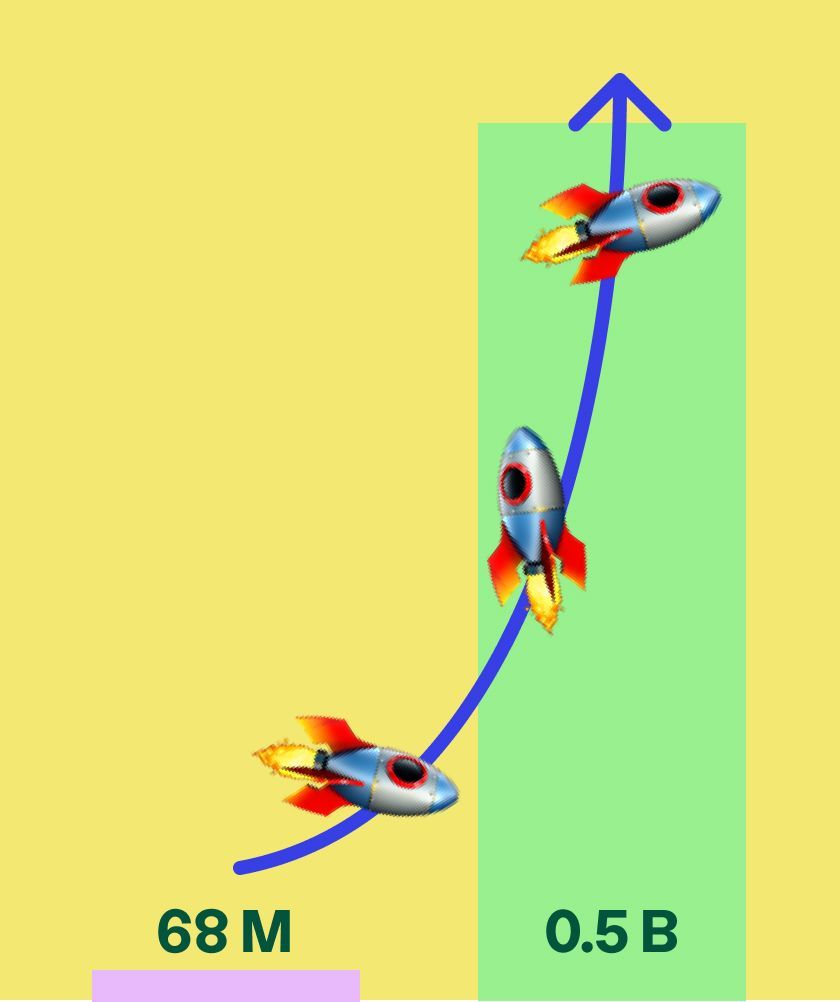 Spotify Ad Formats
Now, let's explore the advertising formats available on Spotify, the targeting and creativity options it offers, and how it can fit into your media mix.
Audio Ads
This is the most popular ad format and is played between songs when the audience is most receptive, in a no-swipe, no-scroll environment.
As users adjust their settings before listening to songs, Spotify knows their mood. Therefore, only relevant audio ads are played based on the moment or setting. Spotify claims that 75% of the audience remembers ads that recognize their "moment".
Video Ads
While video ads on other platforms might be viewed silently, users on Spotify always listen to audio. Hence, Spotify video ads provide a valuable opportunity for the message to be heard.
Moreover, video ads are always served when users are actively looking at the screen. Therefore, you can be sure that your video messages are viewed and heard by potential customers. Such a level of trust is not available on other video advertising platforms like YouTube, where people have the option to skip ads.
There are currently two types of video ads available on the Spotify platform: video takeover ads, which run when users browse through music catalogs and view the screen, and Sponsored Sessions, which allow users to unlock 30 minutes of uninterrupted listening in exchange for viewing your video ad.
Podcast Ads
Spotify has a library of over 2.2 million podcasts, including more than 400 original and exclusive ones. However, podcast ads are currently in beta. You will need to join the waiting list.
All Spotify ads can be played on mobile devices, tablets, desktops, and the web. Selected devices like gaming consoles, connected TVs, connected cars, and connected speakers are available depending on the target market.
Targeting Spotify ADS
After determining the type of content you want to deliver, let's explore the targeting criteria offered by Spotify Advertising.
As with all advertising tools, the first criteria to determine are the geographic targeting options, starting from the country of focus and going down to the city or specific metropolitan area.
Next, you can determine the age range of your target users, starting from a young audience of 14-17 and going up to users over 65. You can also specify whether you want to target only female or male users, if necessary.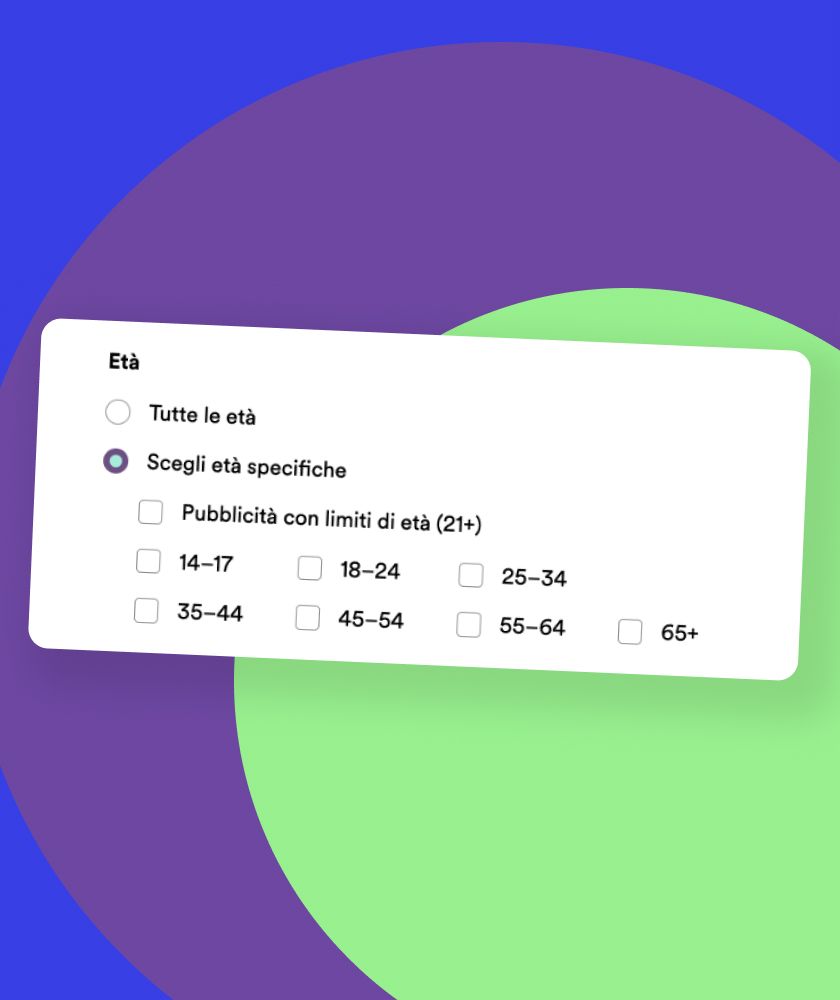 Once you've determined the campaign duration, you can also identify specific platforms: types of devices and mobile operating systems to serve your ads.
Now, let's look at the targeting criteria that differentiate Spotify's advertising platform from others.
Interests and Behaviors
Through these targeting criteria, you can reach users interested in specific market areas. Spotify determines these based on the playlists or podcasts recently listened to by the user or information acquired from streaming platforms.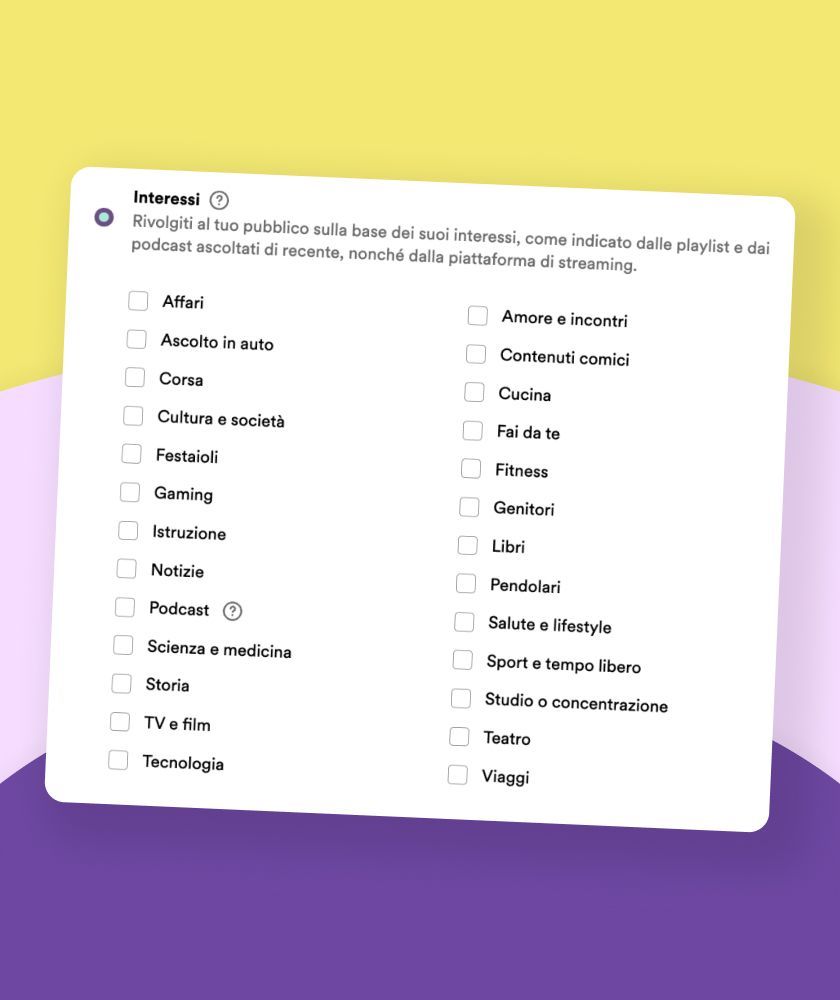 Real-time Contexts
This feature allows you to serve ads to users who are in the midst of a specific action, such as parties, workouts, studying, etc., by leveraging the usage data of playlists on Spotify.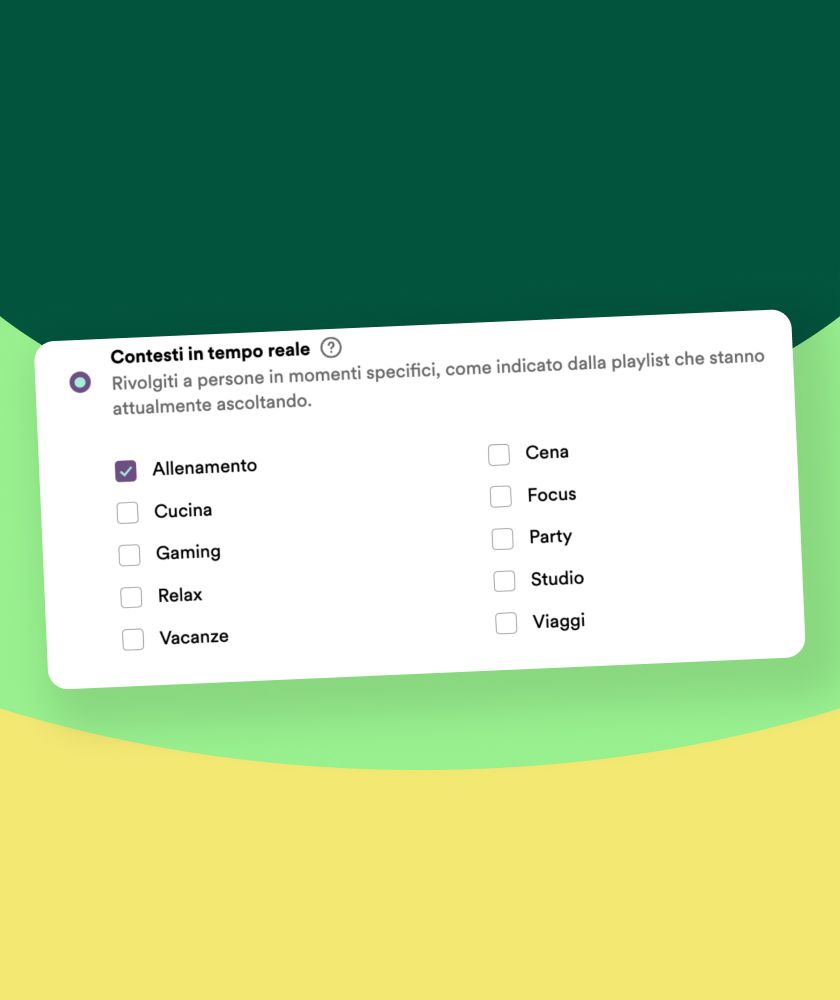 Music Genres
These targeting criteria allow you to reach users who prefer one genre over another.
But that's not all. Beyond standard audience characteristics and genre targeting, Spotify also allows you to target users based on their artist preferences. This method could be ideal if your marketing strategy includes the presence of a brand ambassador. This way, you will reach all users who follow your target artist.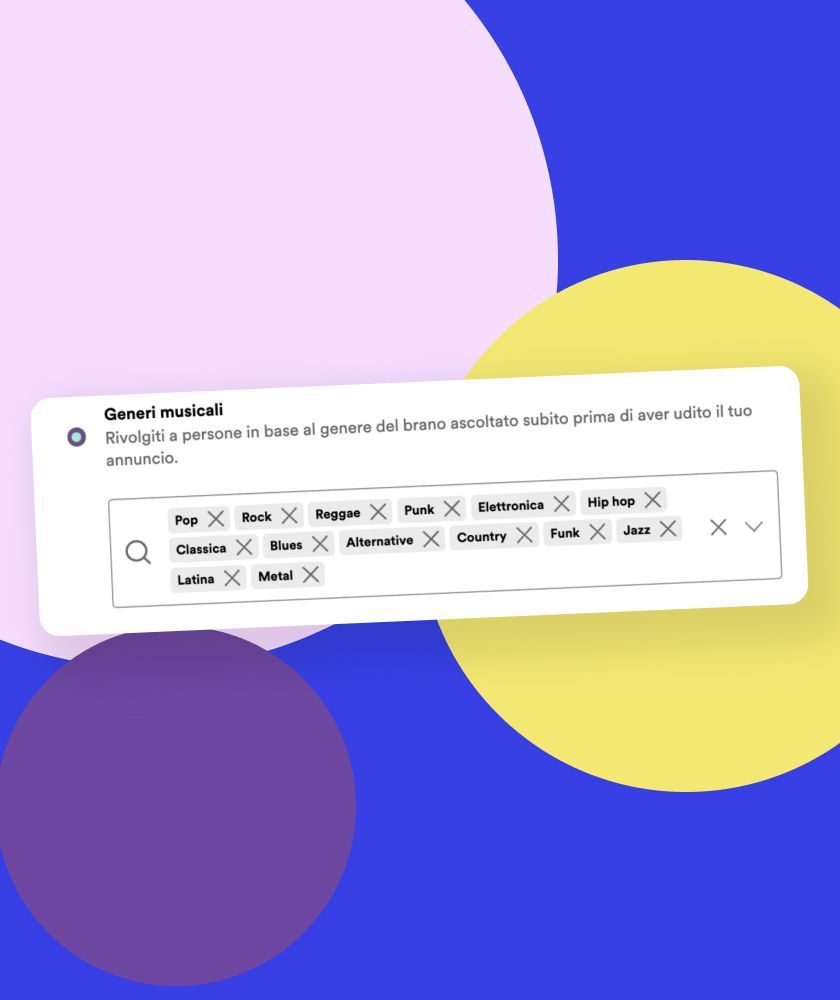 Media Mix and Costs
How can you leverage Spotify within your marketing strategy and include it in your media mix?
In terms of campaign objectives, the platform aims to maximize impressions. You can also determine the frequency of daily, weekly, and monthly ads. Additionally, you can choose the maximum CPM (cost per thousand impressions) you are willing to spend in the ad buying auction.
In addition to impressions, you can work towards achieving maximum reach to target as many users as possible. Lastly, you can optimize campaigns for clicks to drive users to a specific web page by including a call-to-action (CTA) within the ad.
It is difficult to claim that Spotify represents the ideal platform for conversion objectives, given the aforementioned points. However, it can be a valuable ally when working at the top of the funnel or in general to enhance brand awareness.
The costs of the advertising platform also support this notion. Spotify allows you to promote ads starting with a minimum investment of only €250, making it a viable channel even for small businesses looking to create highly targeted and geolocated ads.
Conclusion
You are probably listening to Spotify as you read this article!
 In light of what has been discussed, it is clear that Spotify represents a great opportunity for advertisers who want to promote their businesses in an innovative way, leveraging targeting criteria unlike any other platform and communicating directly to the potential customer's ear.
Are you ready to include Spotify in your media mix?